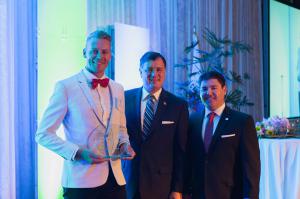 Ville Houttu (CEO of Vincit California), Mayor Donald P. Wagner (City of Irvine), Bryan Starr (President and CEO of the Greater Irvine Chamber)
Vincit California (NASDAQ:VINCIT)
IRVINE, CA, UNITED STATES, June 21, 2018 /EINPresswire.com/ — Vincit California CEO, Ville Houttu, has been named 2018 Entrepreneur of the Year by the Greater Irvine Chamber of Commerce. The award was announced at the Celebrate Irvine Gala, hosted in partnership with the City of Irvine.
"Vincit California is a perfect example of a foreign-owned company that has discovered Irvine as a key ingredient to their success in the U.S.," says Bryan Starr, President and CEO of the Greater Irvine Chamber. "It's an honor to recognize Ville Houttu and Vincit as the Chamber's 2018 Entrepreneur of the Year."
"I am grateful to the Chamber for creating such an open environment for new businesses to launch from," says Ville Houttu, CEO of Vincit California. "The award belongs to my diligent and fun-loving team, as well as to our fantastic clients and partners making all this possible."
The Awards categories included Business of the Year, Nonprofit of the Year, Philanthropist of the Year, Entrepreneur of the Year, and Young Professional of the Year. Each nomination focused on businesses or individuals that emulate the best traditions of good corporate citizenship for the city.
The Celebrate Irvine Gala was held on June 20, 2018 at Hotel Irvine in Irvine, CA.
—
Vincit is a software development and design company based in Irvine and Palo Alto, California, and Tampere, Helsinki and Turku, Finland. Founded in 2007, Vincit currently employs more than 400 professionals. Ranked first in Europe in the Great Place to Work study, Vincit's success stems from satisfied customers and satisfied employees. Vincit is listed on the Nasdaq OMX First North market. www.vincit.com
Media and photos: flickr/vincitcalifornia
Ville Houttu
Vincit California
(949) 751 – 2140
email us here

Source: EIN Presswire